Local & Live is go for 2023
August bank holiday weekend, 25th to 28th
The organisers of Local & Live are excited to announce that it will be back again for 2023. The free music festival will return to Calverley Grounds over the August bank holiday weekend, 25th to 28th.
We are very pleased to welcome Maxipay Accounting Services back as headline sponsors for a second year.
We love to hear from artists and bands of any genre or style in West Kent or East Sussex.
Applications for the 2023 Festival are now open.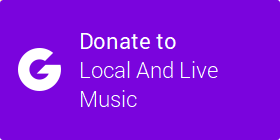 The organisers of Local & Live are excited to announce that successful local performer, Anna Howie, has agreed to become a trustee of the popular annual music festival. Anna has long been a supporter of the local music scene and a promoter of original talent across the region. As an artist she knows just what
Read More »